Here's what you can expect when visiting the Ottawa Adventist Church.
Saturday mornings
Once you arrive, our hospitality greeters will be happy to answer any questions and help you find your way around the church. As you walk around church, you will notice people from a variety of backgrounds, cultures, experiences and ages make this church their home. You will be warmly welcomed by our church family.
Come for 9:15 a.m. and partake in the Sabbath School classes.  After the opening program, adults, young adults (college), youth (14-18), earliteens (age 12-14), and juniors (age 10-12) separate into their respective classes to share what they learned from that week's lesson study and how it has made a difference in their lives. Classes for children (age 0-9) begin immediately at 9:15 a.m. in the lower hall of the church.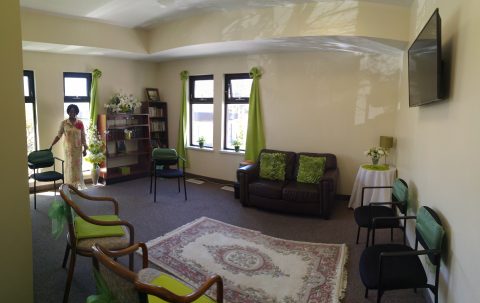 As you enter the sanctuary at 10:50 a.m. for the corporate worship service, you will encounter a warm friendly atmosphere. You will also be more blessed than you came as you experience great music and an encouraging, uplifting, Bible-based sermon designed to help you see God more clearly and to provide you with strength to live as a Christian during the week. Nursing mothers and parents with toddlers will find a mother's room to the right of the foyer where they can watch the worship service and take care of their kids' needs at the same time. 
As you leave the sanctuary, stop by the Visitor Green Room (off the main foyer) for some refreshments and a friendly conversation about what is happening at the Ottawa Adventist Church. Thereafter, you are invited to retire to the lower hall to make new acquaintances and reconnect with old friends over a fellowship meal.
Friday Nights
On Friday evenings, you will find college/university students and young adults coming together from 7:00 p.m. to 10:00 p.m. to unwind from the week and to engage in vibrant discussions that stretch them mentally, emotionally and spiritually. The meetings provide a place to fellowship, grow, seek answers, ponder and go deeper with God. All are welcome to attend.
In the Week
On Sunday mornings you will find members gathering for Prayer and Praise. You will bump into others who are donating their time to serve the community with ministries like Touch of Love and still others active in the Adventurer  and Pathfinder clubs.  During the week, you will notice ministry teams meeting at the church to plan upcoming events.  Wednesday nights members gather to have their spiritual batteries recharged during a powerful prayer service that includes times for praise, group prayer, and a Spirit-filled devotional. At the Ottawa Seventh-day Adventist Church, we value people, and we want to support your spiritual journey.  You can schedule a time to meet with the pastor for counseling, prayer, Bible study and more.
 
We hope to see you soon and look forward to welcoming you in-person.
---
Map & Directions
The church is located at 2200 Benjamin Avenue, Ottawa, Ontario, K2A 1P5, Canada. 
Click on the map to get directions to the church.