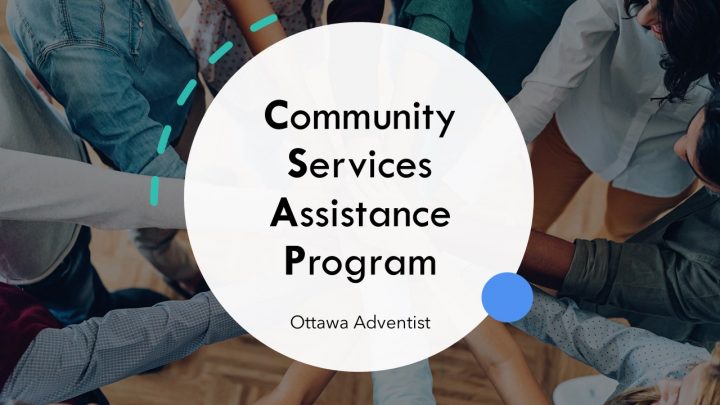 The Ottawa Adventist Community Services Ministry aims to be a well-rounded ministry of compassion, which supports Personal Ministries by providing for the poor, needy and unfortunate of the community (both in-reach and outreach programs).
The ministry seeks to meet the needs of the community by providing programs and services that impact the church and the community, including: Touch-of-Love sack lunches, Community Guest Day, tutoring and mentoring programs, health screening education and assistance, inner city missions, and disaster response.
Services
Touch of Love
Currently suspended due to COVID-19
Touch-of-Love is a ministry of love and compassion. Every two weeks, the ministry prepares sack lunches. These are put together by volunteers and delivered in the downtown area. Included in the sack lunches are two sandwiches, one banana, one drink and a dessert. Clothes are also distributed.
Hours
Location
Downtown, Ottawa
Big Give
Currently suspended due to COVID-19
As part of the annual city-wide "Big Give" event, we provide free household giveaways (clothes, kid's books, household items), free BBQ (hots dogs – Halal and non-halal, veggies burgers) free baked goods, free blood pressure checks, hand massages, haircuts for boys, face painting, live music with CHRI Radio.
Hours
Location
Dr. F.J. McDonald Catholic School, 2860 Ahearn Ave, Ottawa, ON K2B 6Z9
Food Pantry
The Food Pantry provides food to individuals in need  within the surrounding areas and Michele Heights. For help or to donate, call (613) 482-0908.
Hours
Location
2200 Benjamin Avenue, Ottawa, ON K2A 1P5